Galleries
A selection of my miniature paintings can be found throughout the year at the following galleries:
Llewellyn Alexander Gallery, The Cut, Waterloo, London Tel: 0207 620 1322
Elford Fine Art, The Gallery, Tavistock, Devon Tel: 07712 137272
Alternatively you can always get in touch with Tracy to enquire about a particular painting. If it is at an exhibition or gallery she can give you the contact details or if it is at the studio you can purchase direct.

Please also check the News Page which is regularly updated with details of upcoming exhibition venues and dates, plus the opportunity to purchase selected paintings fresh off the easel and direct from the studio.
Awards
2019
Hilliard Society - Marion Winter Kangaroo Award
2017
Royal Miniature Society - Anthony Lester Art Critic Award
Hilliard Society - Marion Winter Kangaroo Award
2015
Royal Miniature Society - The Prince of Wales Award for Outstanding Miniature Painting
MASF - Honourable Mention (Birds & Animals)
Hilliard Society - Marion Winter Kangaroo Award
2014
Royal Miniature Society - President's Special Commendation
MASF - Opaque Watercolour 1st Place
2013
MASF - Birds and Animals 3rd place
2012
Hilliard Society - Most Popular Exhibit
Hilliard Society - Mary Scott Kestin Award Animals & Wildlife
Hilliard Society - Sue Burton Memorial Award for Best in Show
MASF - 1st Place Opaque Watercolour
2011
MASF - Birds & Animals 3rd Place
Parklane Gallery Miniature Exhibition - Honourable Mention
Seaside Gallery Miniature Exhibition - Best Watercolour Award
National Exhibition of Wildlife Art - Daler Rowney Award for Best Watercolour
MPSGS - International Award 2nd Place
2010
MASF - 3rd place Opaque Watercolour - 2010
Parklane Gallery Miniature Exhibition - Red River Paper Award
David Shepherd Wildlife Artist of the Year - Highly Commended
MPSGS - Honourable Mention (International)
Blossom II Art of Flowers - Highly Commended
2009
MASF - Permanent Collection Purchase Award
MPSGS - Honourable Mention (Birds & Animals)
2008
Hilliard Society - Mary Scott Kestin Award - Animals & Wildlife
Royal Miniature Society Best in Show - Gold Memorial Bowl
Royal Miniature Society - Llewellyn Alexander Award
MPSGS - Birds & Animals 3rd place
Exhibitions
Hilliard Society International Exhibition, Wells, UK - 2008, 2009, 2010, 2011, 2012, 2013, 2014, 2015, 2016, 2017, 2018, 2019
Seaside Gallery, USA - 2008, 2010, 2011
Parklane Gallery, USA - 2008, 2010, 2011
Royal Miniature Society, UK - 2008, 2009, 2010, 2011, 2012, 2013, 2014, 2015, 2016, 2017, 2018
Miniature Painters, Sculptors & Gravers Society (MPSGS), USA - 2008, 2009, 2010, 2011, 2012, 2013
Miniature Art Society of Florida (MASF), USA - 2009, 2010, 2011, 2012, 2013, 2014, 2015
Society of Women Artists, UK - 2009
Marwell Art Society, UK - 2013
Pier Arts Centre, UK - 2009, 2012, 2013
Loft Gallery, UK - 2009
Society of Botanical Artists, UK - 2009, 2010
Society of Wildlife Artists, UK - 2009, 2010
Elder Street Gallery, USA - 2009
Wildlife Artist of the Year Finalist (David Shepherd Wildlife Foundation) - 2010, 2011, 2012, 2013
National Exhibition of Wildlife Art, UK - 2010, 2011, 2012, 2013
The Snowgoose Gallery, USA - 2011, 2012
Artistic Designs gallery, USA - 2011, 2014, 2016
Memberships
Miniature Artists of America (MAA) Elected signature Member 2013
Royal Miniature Society (RMS) Elected Full Member 2011
Society of Animal Artists (SAA) Elected Associate Member 2011
MPSGS Elected Associate Member 2010
Royal Miniature Society (RMS) Elected Associate Member 2009
Hilliard Society (HS) HS signature Status 2009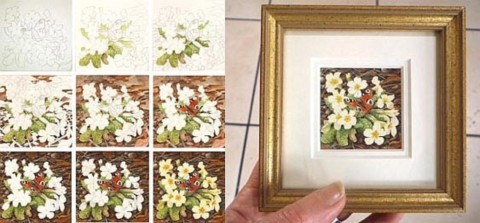 Society Abbreviations -

RMS - Royal Society of Miniature Painters, Sculptors and Gravers, UK
HS - Hilliard Society of Miniaturists, UK
MASF - Miniature Art Society of Florida, USA
MPSGS - Miniature Painters, Sculptors and Gravers Society, USA