COMMISSIONED ARTWORK
Illustration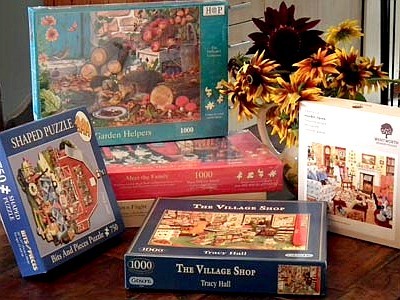 Much of my day to day work is in illustration - turning words into pictures! I really enjoy the variety and challenges it brings. I am often commissioned to produce artwork for jigsaw companies and am particularly delighted to work so closely with The House of Puzzles in Scotland.

A selection of my paintings created for the puzzle market are available as top quality prints and greeting cards in the Shop with delivery available worldwide.

Natural History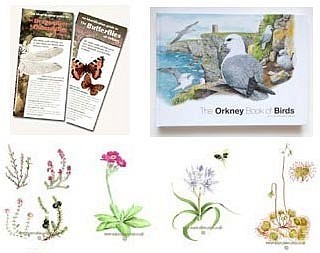 In 2008 The Orkney Book of Birds was published, which I illustrated with fifty full colour plates showing the brids in typical island settings.
I have also worked with the Orkney ID Field Guides to produce a series of illustrations of dragonflies, damselflies and butterflies, working from specimens in the Lorimer Collection at the Orkney Archive. The Farming and Wildlife Advisory Group commissioned botanical studies for the Viking Heath Project, set up to raise awareness of and preserve the maritime heath and grassland environment.
Archival signed prints of these paintings and signed copies of The Orkney Book of Birds are available in the Shop.

Pet Portraits
A specially commissioned, realistic painting by a professional artist is an increasingly popular way to remember and celebrate a much loved companion.

I have been painting portraits of people's pets for many years with happy customers all over the world.
Other Commissions
An original painting makes a wonderful present and from time to time I am asked to paint or draw a special place, person or flowers.

Get in touch if this is something you would like and I'll let you know if I can do it for you.
Licensing

If you would like to license my artwork for your products please get in touch. Many of my paintings are available for commercial use and subjects include flowers, wildlife, animals, birds, farming and rural scenes. Alternatively artwork can be commissioned especially for your project.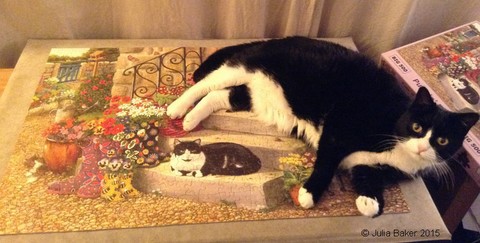 Our thanks to Julia for sending in this photo of her cat Lucy helping with the puzzle 'Puss n Boots' !